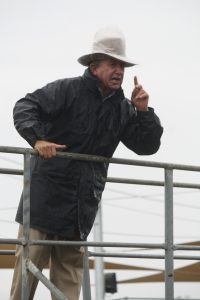 Large numbers of cattle are still passing through the Dubbo saleyards with 5850 being sold today.
Western producers are supplying a large percentage of the cattle for the weekly sales as the continuing dry conditions forces them to offload.
Those attending the sale crossed their fingers as grey clouds hovered above, hoping for a decent downpour soon.
Most categories held firm. Competition from restockers was lacking, which resulted in a 15 to 20c/kg decrease in young cattle and cows.
Vealers sold to 315c/kg.
Prime yearlings sold from 265c to 302c/kg.
Feeder steers were firm, selling from 250 to 310c/kg, while the feeder heifers were 5c to 9c/kg cheaper at 238 to 285c/kg.
Steer calves and heifers to restockers sold from 234c to 334c/kg and 180 to 284c/kg respectively.
Grown steers sold from 252c to 281c/kg while heifers of the same category sold to 266c/kg.
Cows sold up to 14c/kg cheaper, making up to 224c/kg for the prime, heavy weights.
Bulls sold to 257c/kg.
For the full Meat and Livestock Australia report, visit our Market Report section.