Today's store cattle sale yarded only 900 head, resulting in a quick selling day for agents.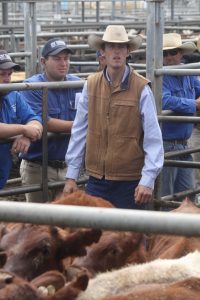 Condition and quality was lacking across much of the yarding as producers continue to offload numbers prior to Easter.
Despite this, prices held firm for most categories, compared to previous sales.
Steer weaners sold up to $830/head for crossbreds, averaging $575/hd for the category.
Heifer weaners seemed to improve slightly, selling up to $600/head for a pen of well-bred Hereford/Angus-cross.
The small number of heifer yearlings sold to $720/hd.
Cows and calves were bargain buying. The best of them sold for $1370/unit.
PTIC cows were also cheaper, selling from $590 to $1100/head.
Full Meat and Livestock report available in the Market Report section.