Visit our Sales Calendar for sale dates and draws.
Details of listings for the next store cattle sale will be posted here and on our Facebook page when available.
Details are also advertised in The Land newspaper prior to sale days.
If you are looking to buy or sell in the next sale, please contact your preferred agent via details on the Contact Us page.
You can also visit our Dubbo Stock & Station Agents Facebook page for photos and sale updates.
*****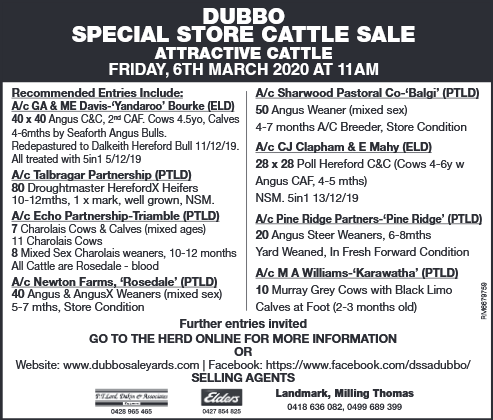 Further entries include:
A/C Turill Park
16 x 16 Santa x cows and calves. Framed cows with sappy calves, 3-4 months.
A/C Mayvale
15 Hereford steers, strong store with plenty of frame.
A/C Stone
12 Santa x heifers, 12-14 months. Heifers with plenty of scope.
A/C Braeside
6 Limousin steers, 10-12 months. Ideal cattle to put on feed for the trade.
A/C Oakey Creek
14 Murray Grey heifer weaners
26 Angus/Hereford steer weaners